Friday's Find - All of A Kind Family

In this edition of Friday's Find, I introduce you to one of my favorite books from my ch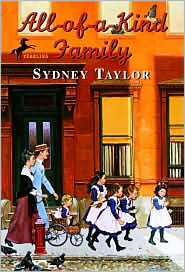 ildhood, Meet the
All-of-a-Kind Family
— Ella, Henny, Sarah, Charlotte, and Gertie — who live with their parents in New York City at the turn of the century. Together they share adventures that find them searching for hidden buttons while dusting Mama's front parlor and visiting with the peddlers in Papa's shop on rainy days. The girls enjoy doing everything together, especially when it involves holidays and surprises. All-of-a-Kind Family (1951) is the first book of a series. Other books in the series include More All-of-a-Kind Family (1954), All-of-a-Kind Family Uptown (1957), All-of-a-Kind Family Downtown (1972), and Ella of All-of-a-Kind Family (1978).
I fell in love with Sarah when I was eight. I loved Sarah so much because she was just like me. She was the middle child in a family of all girls but even better she was Jewish. No other character I had ever met outside of Hebrew school was Jewish. I read the whole series as fast as I could then went back and read them all again. This is true for many young Jewish girls.
According to Professor
June Cummins
, Sydney Taylor's biographer, "All-of-a-Kind Family inaugurated the genre of Jewish children's literature. Before All-of-a-Kind Family, Jewish children's books tended to be written for Jewish audiences. Taylor's books reach past those ethnic boundaries with a universal family story and characters everyone can care about. Today, all readers enjoy multicultural literature about Jews, African-Americans, Asian-Americans, Hispanics, and other peoples. Sydney Taylor helped break down barriers so that all ethnic groups could have a voice in children's literature"
My daughter is still too young at three years old to enjoy this book with the passion I did when I first met this wonderful family. Still I pull out my old tattered well-loved copy and read selections from it. This week we will begin our Purim preparations and as we do so we will visit with Ella and Sarah as they put on their Purim shpeil and deliver their Shalach Manos.
What books from your childhood bring you back again and again?