Naturally Curious Tots - Pine Trees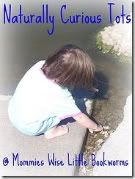 One of Froggy's favorite activities while out lately is to find which trees are ready for winter and which trees are still working on getting there. According to her, a tree is ready if all the leaves have fallen off. Trees that still have their colorful display of Autumn leaves are still working on getting ready.
This did not work so well when we came across an evergreen shrub on a walk (For some reason the shrubs at her front door do not trigger). I took the opportunity to explain the difference pointing out how thin the leaves were so the snow could fall through without getting caught too much.
So now several days later she has added a new category to the mix, those that don't need to get changed. We often collect acorns on our walks so on our most recent walk when we were comparing evergreen with other trees, I showed her a pine cone under the tree
This led to an intense need in Froggy to match each tree she knows with the kind of seed it makes. She was slightly disturbed that the Maple tree's seeds were visible in Spring not Fall but has already declared her intention to play with them.