A Trip to Venice
We took a trip today as Froggy would say "in our imaginations" to Venice. We participated in the Stories in Art program at the National Gallery of Art. It was an incredible experience.
The journey started in one gallery where the docent read
Gaspard on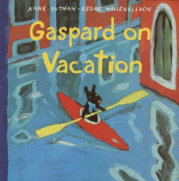 Vacation
to an entranced audience of approximately 20 children. In the story Gaspard goes on vacation to VeniceThey visit museum, after museum, after museum. Bored, Gaspard spots a red kayak in the canal and takes off in it heading down the waterways. But Gaspard is far from being an experienced kayaker and crashes into a gondola, which causes its occupants to land headfirst in the canal. Frightened, he runs and hides in a church. But the police arrive, reunite Gaspard with his family and they all head off to a restaurant to have "the best spaghetti in the world."
After the story, the children began their "vacation in Venice." The docent led them to a different gallery where they viewed
The Entrance to the Grand Canal from the Molo, Venice
by Giovanni Antonio Canal better known as Canaletto. The docent guided the children as the "jumped into the painting and traveled to Venice" While there, the children visited the market, the passport office and took a gondola ride. Since Canaletto painted many of his works specifically to be souvenirs for visitors to Venice, it made the perfect platform for this venture.
After the "trip", the children went to the atrium which had been set up specifically for their use. They were given matted black line drawings of a close up of one section of Canaletto's painting and oil pastels and free license to create their own masterpieces. The only guidance they were given was in the unique qualities of oil pastels, how they can be blended and smeared and the different types of effects they can make. Some of the children created full masterpieces. Froggy did not but I was thrilled no the less. This is the very first time we have ever been in a group art / craft setting where she did not want to stop long before every one else. She was focused and intent on her creation for the entire time. She mixed and blended colors. She smudged and smeared the pastels to see the effects. Unfortunately she decided it needed to be stormy and covered much of this experimentation with black so it does not show in the final piece.