Math Monday - Lollipop Logic

We recently got a new workbook based off of a recommendation from another mom ( I wish I could remember who). It is
Lollipop Logic
. I got it in part to see where Froggy was in this respect since I had no concept of what constituted logic skills for a little person. Froggy really likes it and we do pages in it when we have time. I think she likes it because of the fun pictures in it. I am not sure she is learning anything from other than test taking skills. My husband calls it the "SAT test taking prep book"
We have had it for several weeks now and have worked on sequencing, relaationships and analogies. The sequencing went as I expected with Froggy breezing through it thinking it was kind of silly. When we got to the relationships we did well except when Froggy was not familiar with the items she was trying to form a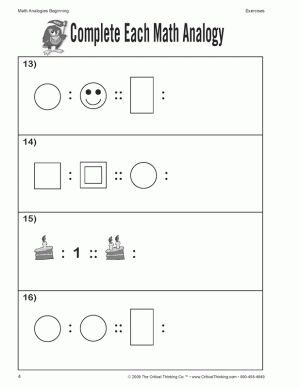 relationship with. The page with the sports equipment provided some really fun conversation fodder.
The analogies gave Froggy some real trouble when we started because she did not understand the concept of what they were asking. We took some time to explain what they were asking and how "the game" worked and she was hooked.
The remaining sections are deductive reasoning, pattern decoding and inferences. The pattern decoding section will be similar to the sequencing in Froggy's opinion I expect. However I am looking forward to seeing what happens with the other two. I have no idea how prepared she is to do these tasks. The deductive reasoning section is lots of listening carefully and processing what you hear. I am concerned that may cause Froggy difficulty and frustrate her.
Joyful Learning