Sophie's Masterpiece
Over the summer, we took a virtual tour of Italy through
Stories in Art
. The summer programs are always paintings while the winter programs are always sculptures or three dimensional pieces of art.
The theme for this session of
Stories in Art
is being investigators. The children are "sent on a mission" in which they gather clues and learn about the sculptures. I apologize in advance for the quality of the pictures. They were taken with the camera phone since the real camera was not cooperating.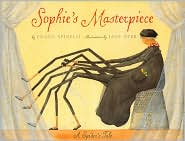 Today we read
Sophie's Masterpiece
and visited Alexander Calder's
Spider
among some of his other sculptures. The story was the perfect introduction to unit on three-dimensional art. This lovely spider works hard at creating masterpieces even though most of them are not appreciated. I like the message of the book
Then they went to another room and actually looked at Mr. Calder's sculptures. He is most famous for his stabiles and mobile. See even the grown ups learn things at these programs. A stabile is a kinetic sculpture that is standing rather than hanging like a mobile.
.
Then the children got to make their own sculptures using wires as Mr. Calder did. They could create either a stabile or a mobile. Froggy chose a mobile. She had some difficulty actually getting the wires attached to the base but that is the only place in which I helped. All the rest of it she did herself