What We Are Reading
One of the books that Froggy has refused to put down this week is
David and Goliath.
She knows the story inside and out. She tells it to everyone who will listen. And yet she reads it over and over. This is not the best version of the story but it is not the worst either. The best part is she can and will read it herself. She loves it so much that she decided she needed to copy it.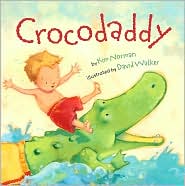 Together we have enjoyed
Crocodaddy
which is an adorable book celebrating imagination. The little boy is "captain of the Crocodaddy hunt." He and his father spend a perfect summer afternoon together as "captain" hunts and tames the crocodile even managing to take a ride on his back. At the end of the afternoon. the crocodile transforms back into Daddy. The illustrations are colorful and lively.
The other wonderful book we shared this week is an old favorite returned,
Turtle Turtle Watch Out.
Froggy picked it out at the library and insisted that it come home even after I pointed out that we had read it before. I love this book and despite my usual reluctance to read books over and over, I do not get tired of this one and enjoy it every time.