Italy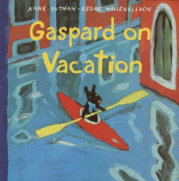 To learn about Italy, we read
Celebrate Italy
and
Countries of the World: Italy.
As we are working Froggy pops up with "One summer we visited Italy" meaning the
virtual tour
we took as part of our Art program. We looked back at the blog posts about it and revisited the stories. Froggy was thrilled to reread
Gaspard on Vacation.
The little mouse is adorable and Froggy (being almost 2 yrs older now) was much better able to appreciate the travels. We also read
A Boy Named Giotto
which is fictional biography of Giotto, the pre-Renaissance master whose magnificent frescoes illuminate the Church of St. Francis in Assisi.